It's been 23 years since Jane Arnott joined her local LloydsPharmacy branch as a Saturday girl, and she's never looked back
Before her children were born, Jane Arnott roasted coffee in a coffee shop – a far cry from the healthcare environment of pharmacy – and she admits that it was the hours that first attracted her to pursue a career with LloydsPharmacy 23 years ago. "It was 10 hours a week and with my children at school, it suited me down to the ground," she explains.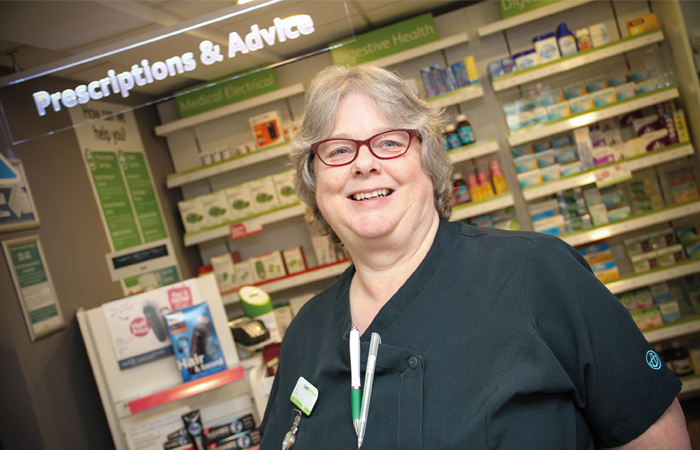 After starting as a Saturday girl, Jane was training to be a dispensing assistant within three years and she's grown in her role and expanded her responsibilities ever since, having become full-time once her children were older.
Keeping busy
Jane's main role is looking after the pharmacy's dosette boxes and she works through around 130 of these every month. "I do all the paperwork as well and I do a little bit of normal dispensing now and then, but the dosette boxes and paperwork take up 90 per cent of my time," she says. But it doesn't end there, as Jane explains: "We all go out to the shop floor as and when we're needed so we can do one-to-one with customers too. I tend to talk to all the customers with asthma because I have asthma myself so I have that extra knowledge and can teach proper inhaler technique and so on because I'm used to it. I think that really reassures customers too."
Her multiple responsibilities keep Jane busy, but she puts her ability to manage all the tasks down to the fact that she's been in the role for so many years. "I've worked here so long I know everything that needs to be done and where everything goes," she says.
Team dynamic
The key to a successful pharmacy is often a positive team dynamic and this is certainly the case for Jane and her colleagues. "We have four staff and a pharmacist and we all get along beautifully well together," she enthuses. "Nicky is our nursing home person and the other dispenser – she's worked here for nine or 10 years. Then we have our manager Emile, who has been with us for 18 months and Ruth is our newbie – she's been here six months. Nathan is our pharmacist – it's his first year as a qualified pharmacist, but he's leaving because he's moving away and getting married. We get our new pharmacist in August."
Jane only has positive things to say about her colleagues and the service that the team is able to provide to their customers. "It's really good having the variety of experience – between us we know something about everything," she says. "Sometimes something comes along that flummoxes us, but I'd say that 90 per cent of the time we can help directly and those other times we refer on."
It's quite clear that Jane's favourite part of her job is the people – and that applies to the customers as well as her colleagues. "We tend to get an older class of customer in Salisbury and it's really nice to be able to chat to them and help," she says. "People know Salisbury as 'Smallsbury' – everyone knows everyone –
so we know all our customers really well."
All change
The LloydsPharmacy branch in Salisbury has recently undergone significant change. Its original building had housed a pharmacy since at least the nineteenth century, but was listed so only limited improvements were permitted. Therefore the pharmacy was relocated and given a thoroughly modern makeover before re-opening on 15 June this year. Jane explains: "We've moved diagonally across the market square to a beautiful, bright, airy, clean environment."
The refurbishment was a milestone in a wider initiative by LloydsPharmacy and parent company Celesio UK to offer customers an enhanced range of services in more contemporary and inviting retail environments. It was the 500th store in the group to be transformed. Jane believes that one of the most positive changes is the configuration of the new pharmacy. "The dispensary is more visible now and we're much more face on with customers," she says. "We weren't seen over at the old pharmacy and we didn't really get the chance to engage properly, but now we're further forwards, so if we overhear a problem or see a customer who needs help, we can assist more easily and that helps us to build a better rapport with our customers."
Pharmacy manager Emile Qureshi echoes Jane's sentiments: "We're delighted with our modern makeover," he says. "It really shows that we're fully focused on our patients and meeting their health needs. It's great for the team because it gives us the capability to use our knowledge and expertise to care for the community – which is what we do best."
Jane explains that the pharmacy has attracted more passersby since the move, but around 75 per cent of the customers are familiar faces who visit month in, month out. And these regulars have welcomed the pharmacy's changes, with Jane remarking that feedback has been resoundingly positive so far.
Looking to the future
As well as the transformation of the pharmacy, there's more change on the horizon for Jane as her first grandchild is due in November, so it's fair to say that she's likely to have her hands full. Until then, Jane is keen to do everything she can to support her customers and community through health awareness campaigns and the pharmacy's new and enhanced features.
It's really good having the variety of experience – between us we know something about everything