We caught up with former RoE Award winner Debbie Starr to find out how her career has progressed since scooping highly commended in the Retail Skills category and walking away with the Infant Care Award
Winning an award is often seen as the peak of someone's success but for City Pharmacy's lead counter assistant Debbie Starr, it was just the beginning.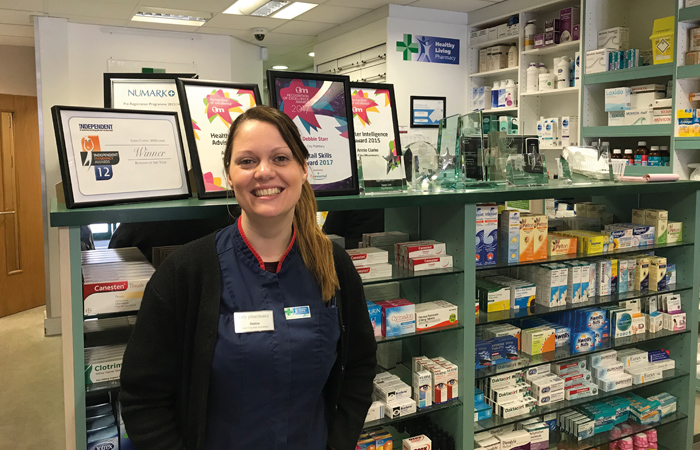 This time last year she entered TM's Recognition of Excellence (RoE) Awards, encouraged by colleague and former RoE Spotlight Award winner Annie Clarke. Debbie walked away with not one, but two accolades: highly commended in the Retail Skills category and winner of the Infant Care Award.
With her trophy and certificate sitting in pride of place behind the pharmacy counter, Debbie reflects: "It makes you say where can I go from here? What can I improve on to help the pharmacy be more than what it is?"
Spurred on by her victory, Debbie got stuck into pharmacy life and now with more training under her belt, countless ideas for making a difference in her community and more passion than you can shake a stick at, Debbie is truly an indispensable part of the team.
A healthy focus
With customers being Debbie's first priority – or the pharmacy's "bread and butter", as she refers to them – her main focus is undertaking training to enable her to offer the best service possible, as well as overseeing the training of her medicines counter team.
Debbie has just completed her health champion training, putting her dispensing assistant training on hold while she did so, as she wanted to prioritise adding value for customers on the shop floor. This means that Debbie now has the necessary knowledge to improve her displays and promote healthy living.
With Portsmouth being the home of the healthy living pharmacy initiative, there's always plenty going on in the city and Debbie explains that she tries to get involved as much as she can. To this end, she's putting the pharmacy forward to be involved with Portsmouth City Council's latest project, which aims to find out what people would like to help them lose weight and then providing the resources off the back of this research.
Debbie is already involved in a blood pressure check service at the pharmacy, which has seen some great results, and she's keen to expand their weight management offering as these two services complement each other well. "A lot of the things you don't get paid for at the pharmacy but I see it as even though you don't get paid for it, you're still looking after your community. And then [customers] come back and they start using the other services [such as] the stop smoking service. It all goes hand in hand and spans out that way," says Debbie.
A woman on a mission
Known for her endless lists, 'organised' may as well be Debbie's middle name. She starts every morning by making a plan of everything that needs to be done and then discusses with her team who will be taking on what for the day – usually an easy discussion as Debbie says "we can all do everything".
With a keen eye for detail and an aversion to mess, Debbie also spends a lot of time organising and re-planning the shop floor in order to boost sales, proving that being named highly commended in the RoE Retail Skills category was certainly justified. She says: "I'll be standing [in the shop] for ages thinking that the shelves don't look right and then I'll re-plan it all in my head, change it and move all the stock around. And with our promotions too, having a bit of a tidy up and making sure they're all as up to date as possible with contact details and information – just making it look presentable. You can't have a messy shelf!"
Debbie also has plans to develop a Facebook page for the pharmacy to promote their many services and health campaigns and is planning to sign herself up to do more training so she can be involved in the stop smoking service and other healthy living services, or as she puts it, "whatever I can get my hands on".
Branching out in the community is also on her list. She says: "Community outreach is something I want to gradually build up to, especially with the schools in the area, but I've got my little plans in place and I'll build up to it. I'm not quite there yet – there are so many other things to focus on at the minute!"
If that wasn't enough, Debbie says she'll also "ask in the dispensary if they need any help". With this amount of work, it's hard to believe Debbie only works five four-hour shifts a week.
Recognising excellence
As for the RoE Awards, Debbie says that it was nice to feel appreciated for her hard work. "I think when staff are appreciated, they're happier and when they're happier, their work is better. If you're not appreciated, you're not going to push yourself that extra mile because you'll think, well what's the point? Having that recognition at the Awards, just gives you something else to be like I know I'm doing a good job."
From her team's point of view, the event was brilliant for networking and "good for us [Debbie and pharmacist Sarah] to put Portsmouth on the map that day."
Debbie encourages everyone working in community pharmacy to apply for the Awards and her main message is to just go for it! "There's always something somebody has done. It might not be massive – it might not have been a huge change and there might not be huge profits or anything as a result – it might have been something so simple, like talking through something with a patient and looking after them," she says. "But it was obviously important because you remembered it. Those little ones stick out in your mind because you made a difference."
Last chance to enter!
If you've been inspired by Debbie's story and think you've got what it takes to win a Recognition of Excellence Award, ENTER NOW! Get your entries in by 28 March for your chance to join TM and special guest presenter Jonny Wilkinson, at The Dorchester on 20 June. Good luck!
I think when staff are appreciated, they're happier and when they're happier, their work is better