Myra Battle is making the most of her success in community pharmacy and using her experience to help others achieve new heights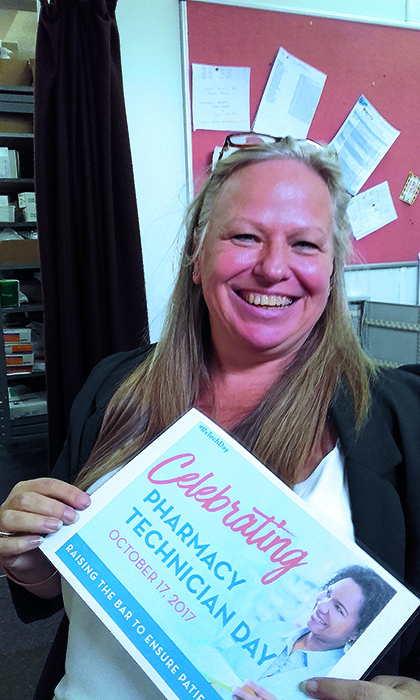 Myra Battle is a woman on a mission. A mission to champion the fantastic and often unsung work of pharmacy support staff and get them the recognition they deserve. A mission that started after she was invited to TM's Recognition of Excellence (RoE) Awards where over two years Myra scooped four wins and two highly commended prizes, as well as claiming 2016's prestigious Spotlight Award.
Up to speed
Since Myra's first appearance at the RoE Awards in 2015, her career has progressed beyond recognition and she's making a name for herself across Suffolk's pharmacy scene.
Myra's healthy living pharmacy (HLP) promotions at her Boots branch in Sudbury led her to train to provide services and gained her, as she puts is, "a bit of a reputation". As a result, she was approached by Suffolk local pharmaceutical committee (LPC) to apply for a county-wide secondment as HLP support officer. "The LPC were saying 'you're really enthusiastic, let's share your enthusiasm'," Myra recalls.
In 2016, the LPC offered to extend Myra's role to 30 hours a week and cover all services – an opportunity Myra couldn't resist, although it meant tough decisions about her in-store commitments. She now does one day a month in her Boots store and is therefore able to keep her accuracy checking technician skills up to date.
Day to day
No day is ever the same for Myra. Always on the go, she spends her working week travelling around Suffolk visiting pharmacies with queries about HLP and wider service provision; attending meetings with councillors, commissioners and service providers; and supporting the CCG in rolling out services.
Myra's main focus is still HLP. She says: "I support the stores with healthy living pharmacy, giving them window stickers, badges, lots of information and materials for the next commissioned campaign."
Myra also runs Understanding Health Improvement courses based on the quality payments and HLP framework and has trained 185 people over 19 sessions, with 13 more people booked in.
Myra's latest projects include supporting the CCG in launching Prescription Ordering Direct – a system enabling patients to take responsibility for ordering and managing their medication and reduce medicines waste – and working closely with UK Power Networks. The latter is perhaps not the most obvious link with pharmacy, but as Myra explains, "they've got a priority service for vulnerable people. Dementia is included in that vulnerability and dementia is the current locally commissioned campaign so I could match the two together. They were happy to send out a pack to all the stores with their information to help the vulnerable people in our community."
Empowering others
Myra firmly believes that pharmacy support staff have the potential to make a huge difference to customer's lives and the NHS; they just need to be shown how.
"It's about empowering people to have the information they need to make a difference and making everyone in pharmacy feel equal – it's not just about the pharmacist," Myra says. "It's about saying although we can't do an MUR or an NMS, we can support pharmacists with stop smoking or other services. There are things that we can do that are such a bonus to the store. I show staff what training is available and they're going back afterwards and saying 'would you like me to do this?' or 'I've just completed this, and I think it'll help in the store'."
Highlighting the importance of signposting is also a priority. "If you signpost and actually get it working, you could end up saving hospital appointments and ensuring that operations go ahead, because the money isn't being wasted in A&E or in GP practices – it could save the NHS. My job is about supporting pharmacy staff with examples. I think they hear it better because it's coming from a different angle – from me not a pharmacist – and they're really positive which is great."
All about awards
In 2017, Myra's healthy living work was in full swing but she hit a stumbling block. "The commissioners had been coming round to stores and accrediting them with me but then we changed to the Royal Society of Public Health so it was self accreditation," Myra explains. "I said to the manager of Public Health Suffolk, 'look, I've got all these stores that you're not going to visit, and they've achieved just as much as the stores that we've accredited that you have seen. Would Public Health Suffolk not want to celebrate all of the stores that have self accredited as well?'"
The answer was yes, so Myra set about planning an awards ceremony to do just that. She secured £1,000 funding and got several sponsors on board to provide food and prizes.
The event was a runaway success, with 85 guests, including 28 winners and Abdul Razaq and Chris Pyburn, director and manager of Public Health Suffolk respectively, who gave out the awards. "The fact that such prominent people made time for the support staff was brilliant and it made people grow and feel important and that was my aim – to make them feel valued as I had when I was an RoE finalist," says Myra.
Next steps
Myra's position within the LPC and her influence in helping pharmacies make the most of HLP only look to be getting stronger and she's constantly on the look out for ways to develop further. She says: "I'm looking for any opportunity that will help me grow. One vision is to work my way up in the LPC, hopefully becoming deputy chief officer eventually, but there's a long way to go."
Myra believes two of the most important routes to success are networking and continuous learning. "I need to keep my eyes and ears open to see the opportunities that are around me and that's one of the wonderful things about networking – you can learn so much and develop. There's lots to learn and lots of people to learn from."