The so-called 'sugar tax' introduced in April saw many popular soft drinks reformulated with reduced sugar content. Overall, this is likely to be good news for the nation's health, but the measure may prompt queries from some people living with diabetes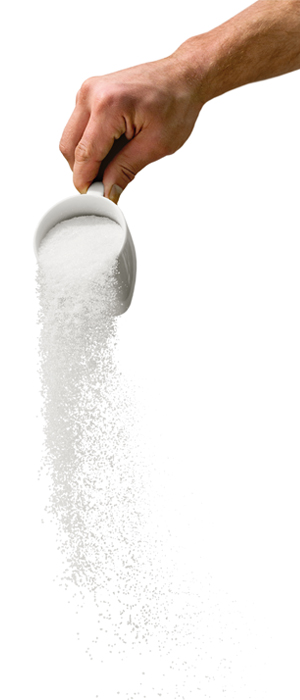 The festive season is fast approaching, and with it many opportunities to overindulge in all things sweet. While the odd yuletide treat is nothing to worry about, there are concerns that the UK's sugar habit is getting out of hand. In turn, this affects our waistlines and dental health, and puts us at greater risk of conditions such as cardiovascular disease and type 2 diabetes.
Data shows we are having far too much of the white stuff. Children aged four to six years consume an average of seven teaspoons a day versus a recommended limit of four, going up to 11 teaspoons in those aged seven to 10 years versus a recommended limit of five. Adults don't fare much better, consuming a whopping 12 teaspoons a day – double the advised limit. Perhaps unsurprisingly, given their well-known fondness for soft drinks, teenagers are the worst culprits, getting through 15 teaspoons a day.
Considering that the World Health Organization says a maximum of 10 per cent of calorie intake should come from 'free sugars' (simple sugars added to foods by manufacturers or by consumers themselves), these figures are cause for concern. The Government's Scientific Advisory Committee on Nutrition (SACN) is even stricter, advising that at most, five per cent of our calories should come from free sugars.
Health impact
All this excess sugar is affecting the nation's health from childhood onwards. Public Health England (PHE) warns that in England alone, a third of children are obese or overweight by the time they leave primary school, stating that "evidence shows that 80 per cent of kids who are obese in their early teens will go on to be obese adults".
What's more, diabetes – a long-term condition that causes a person's blood sugar levels to become too high – is a common cause of concern. In particular, type 2 diabetes – which is associated with unhealthy lifestyle factors such as being overweight – is on the rise in the UK, with the NHS saying that the condition affects around 90 per cent of all adults with diabetes.
Diabetes UK echoes these warnings, saying the condition is affecting an unprecedented number of people in the UK – and that there is no sign of the trend reversing: "More people than ever have diabetes. More people than ever are at risk of type 2 diabetes. If nothing changes, more than five million people will have diabetes in the UK by 2025."
The charity says that while there is no evidence that sugar causes type 2 diabetes directly, sugary foods and drinks are packed with calories. Consuming a lot of these increases the chance of being overweight, which in turn leads to a higher risk of type 2 diabetes.
Southend pharmacist Bina Patel says she sees dietary habits having a big impact on her local community. "Every second or third patient who walks in is obese, with many already having a diagnosis of type 2 diabetes or another condition related to their weight. It's a real problem."
In order to meet the new Pharmacy Quality Payments Scheme (QPS) criterion around child oral health, Bina has recently completed a Centre for Pharmacy Postgraduate Education (CPPE) module on the topic. "It makes for interesting reading," she says, adding: "Although you're aware of the issue – we all see children eating chocolate, cereals and other sugary foods – it's not until you read the statistics that you realise the scale of the issue."
Taxing sugary drinks
It was with a view to addressing this that the Government introduced the much-publicised 'sugar tax' in April of this year. Officially named the Soft Drinks Industry Levy, the tax requires soft drinks manufacturers to reduce the sugar content of their products or pay a levy of either 18p or 24p per litre of drink containing more than 5g of sugar per 100ml. Money raised by the levy goes towards the Primary Sports Premium and the Healthy Pupils Capital Fund.
Announcing the tax, pharmacy minister Steve Brine said: "Our teenagers consume nearly a bathtub of sugary drinks each year on average, fuelling a worrying obesity trend in this country. The Soft Drinks Industry Levy is a ground-breaking policy that will help to reduce sugar intake while funding sports programmes and nutritious breakfast clubs for children."
The policy has seen over half of all soft drinks reformulated with a lower sugar content – including many of the best known and most popular brands, such as Lucozade and Ribena, which have reduced the content of some products by more than 50 per cent.
On balance, Diabetes UK supports the levy: "We need to reduce the nation's weight as a way to reduce the numbers of people with type 2 diabetes, and to help people manage their diabetes better. And to do this, we need to reduce the amount of sugar we're all eating."
Bina thinks the tax is "a step in the right direction". The food industry has begun to tackle high salt levels, Bina says, and now it's time to address our sugar consumption – but "it's going to take a withdrawal period before we see good results".
"Sugar hits the reward centre in the brain just like any drug does. It's a kind of stimulant," she adds.
Before and after
Popular drinks before and after the sugar tax:
Lucozade Energy – down from 17g to 8.9g per 100ml
Fanta Orange – down from 6.9g to 4.6g per 100ml
Ribena Blackcurrant – down from 10g to 4.6g per 100ml
Orangina – down from 10g to 4.5g per 100ml
'Classic' Coca Cola still contains 10.6g per 100ml.
Concerns
While most welcome the tax, there are also concerns that it could potentially cause difficulties for people with diabetes who use sugary drinks to manage hypoglycaemic episodes, or 'hypos' – when blood sugar levels drop below 70mg per dL of blood.
Around the time of the tax being introduced, Diabetes UK commented: "We're aware that these measures have caused concern for people who may use sugary food and drinks to treat hypos, as it will lead to a change in the carbohydrate and sugar content of many commonly used products."
The Royal Pharmaceutical Society (RPS) has acknowledged this, issuing a support alert when Lucozade Ribena Suntory (LRS) reduced the sugar content of Ribena Blackcurrant Ready to Drink and squash drinks by around 55 per cent.
The RPS said changes such as this should be noted by pharmacists who give dietary advice to people with diabetes and other metabolic conditions who consume sweet drinks to manage their blood sugar levels.
Diabetes UK advises healthcare professionals to be vigilant and assess products individually: "The choice of whether to reduce the sugar content in products is down to the companies themselves. This will mean different companies will respond in different ways and at different speeds. They may not always publicise when they've reduced the sugar content either."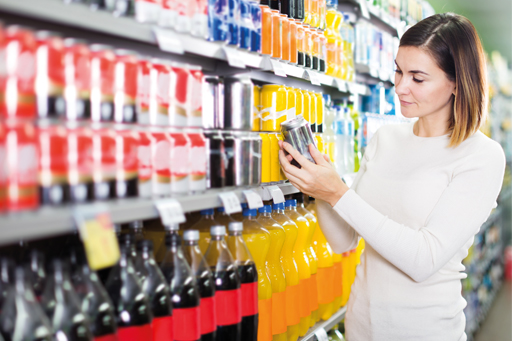 Patient queries
Bina says she hasn't had too many queries from people regarding the sugar content in soft drinks – "we don't have that many sugary products," she says – but there are certain medicines that she looks out for.
"I'm mainly worried about the patients on medications that can give hypos – insulins, glucose, that class of medicines. I usually warn them: if you're not eating, don't take your tablets, because these are the tablets you shouldn't have if you're not eating or are feeling unwell, because if you vomit or experience diarrhoea while taking these medicines, you could have hypos," Bina says.
She goes through diabetes patients' medications and tells them about hypo risk factors and how they can be managed. "I think that is so key when you do medicine reviews with those patients, so they understand what to do – not only when they are fit and well but also when they are unwell, or when they miss their tablets. Those are the kinds of thing that are key in their minds."
Bina's team provides a lot of nutritional advice to patients as part of being a healthy living pharmacy, she says. Her team will often talk to patients about how they can make healthier choices, such as having fruit for a snack instead of foods containing added sugar.
Substituting sugar for sweeteners is one common harm-reduction approach. These products may assist in weight management by reducing calorie intake, and there is evidence that some sweeteners help maintain a reduction in blood sugar levels after meals, as well as helping to protect dental health.
Bina says she sells some artificially sweetened sugar-free products in her pharmacies because "if we're going to sell something it should be good for people's health rather than harmful," and the dangers of sugar consumption are so well established.
However, she hesitates to recommend sweeteners outright, claiming that for some people they can be "just as harmful". These are synthetic chemicals with "a lot of effects on the body, and they still hit the brain centre for stimulating the need for more sugar".
"If someone takes sweeteners, their palate is now attuned to having more sugar. That's not a place to go unless you really can't do without sugar," she advises.
'Hidden' sugars
While many of us are guilty of turning to sugary drinks or snacks for a pick-me-up, part of the problem is that much of the sugar we consume is 'hidden' in foods that we think of as being healthy. For example, research published earlier this year found that many supermarket yoghurts contain unhealthy amounts of sugar – with those labelled 'organic' some of the worst offenders.
It should be noted, however, that progress is being made in this area. Public Health England chief nutritionist Dr Alison Tedstone, who is involved in the Government's sugar reduction programme, commented on the findings: "Based on more recent data than in this study, we have seen positive steps – yoghurt and fromage frais was the only category to exceed the first-year sugar reduction ambition of five per cent – and hope to see further progress when we publish our next report in 2019."
Our teenagers consume nearly a bathtub of sugary drinks each year on average